Are Dental Implants Safe?

Charlotte, NC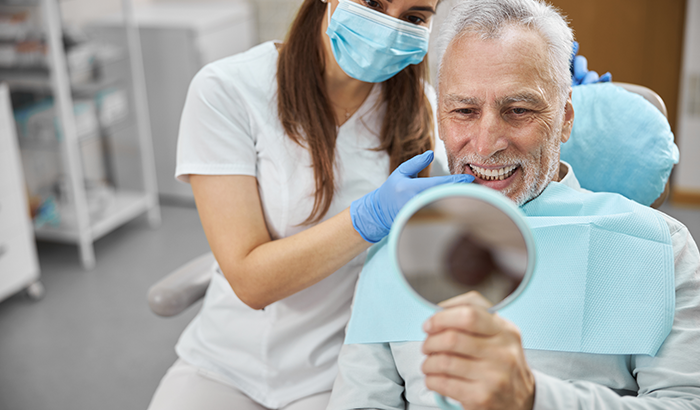 Dental implants have helped many people regain their ability to chew, eat, and talk. They are perfect alternatives to bridges and dentures. Basically, they are surgically anchored into the jawbone to provide a foundation for crowns or bridges. Dental implants are safe, hence acting as an ideal replacement for your lost teeth. At Myers Park Dental Partners, we help you regain your natural smile through a dental implant.


What Are Dental Implants?

Dental implants are the most successful and popular solution for replacing missing teeth. They are surgically placed into the jawbone during an outpatient procedure forming a foundation for the placement of artificial crowns. Once in place, dental implants are completely invisible and replace your missing teeth with natural-looking substitutes that last a lifetime.


Dentures vs Dental Implants

Dentures and dental implants have many differences in design, function, and application. Here's what you need to know about each type of prosthetic tooth replacement option so you can decide which one is right for you.

Dentures are removable appliances that look like real teeth. They're made from a variety of materials, including porcelain and metal. Dentures have an outer covering that mimics your natural enamel layer.

Dental implants are fixed prostheses that anchor onto your jawbone using screws or other devices for anchoring purposes. The replacement teeth sit on top of these anchors, supporting them against strong forces.

Over time, these posts will fuse with your jawbone and create a new structure for your teeth to grow into. Unlike dentures, dental implants are permanent, lasting 20-30 years.


Dental Implants Have Many Advantages Over Dentures


Dental implants are more durable than denture teeth because they're made from titanium. Similarly, they can be placed in any jaw, including jaws that were affected by trauma or disease such as cancer or oral surgery. This isn't the case with dentures. They are limited to cases with no jaw damage or permanent tooth loss. Then finally, dental implants tend to be more comfortable than dentures.


Effects of Tooth loss

The effects of tooth loss can be devastating. Not only does it affect your overall appearance, but also negatively impacts your health and well-being. Here are some common tooth loss effects.

Tooth loss can make it difficult to chew food properly and swallow. This problem can cause anemia, malnutrition, and vitamin deficiencies in some cases.

You'll likely experience pain in your mouth after losing your teeth, especially if you've had dental problems before losing some or all of your teeth. Similarly, tooth loss will make you feel frustrated or irritable because of your new appearance. This is also normal and will pass with time.


How Implants Prevent Bone Loss

Implants help you gain bone density by replacing the missing bone with artificial materials, such as titanium or zirconium, in the form of a screw or rod. In addition, they provide support for the existing bone structure to keep it strong and healthy. This helps prevent calcium loss from your bones and encourages them to grow stronger.

Implants strengthen your joints. The screws used in implants are designed to fit snugly within the body and will not move once inserted into place (like pins or rods often do). This helps prevent pain when you exercise or move around, which also helps strengthen your joints as you age.

If you are looking for a reputable dental clinic to help you with your dental restoration, then Myers Park Dental Partners is here for you. Contact us via (704) 332-2532 to schedule an appointment today.