Benefits of Clear Aligners

Charlotte, NC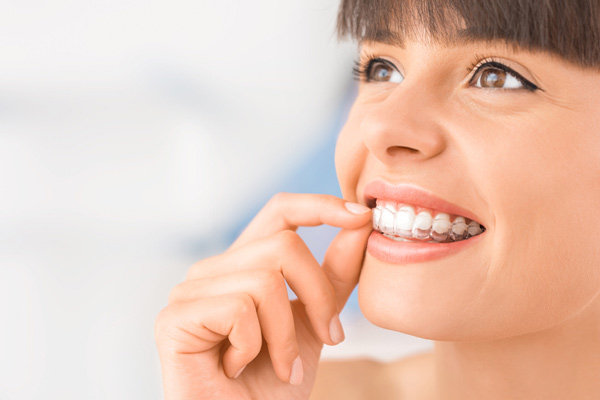 Due to certain genetic disorders and environmental factors, some people have crooked or misaligned teeth. The malocclusions in teeth are also known as bad bites. People whose jawbones are either too big or too small are more susceptible to bad bites as compared to the ones who have a normal jawbone structure.

When a person's jawbones are big, the teeth have gaps in between them. This is known as tooth spacing. And when a person's jawbone is smaller than the usual size, the teeth become overcrowded and overlap on one another. Similarly, childhood habits such as thumb sucking, teeth grinding and breathing through the mouth can also lead to crooked or misaligned teeth.

All kinds of bad bites make it difficult to eat food, talk properly, and maintain good oral hygiene. People with bad bites are more vulnerable to oral conditions like plaque, tartar and tooth damage because it is hard to clean in between the overlapping teeth and while biting and chewing, some teeth sustain more pressure than the others.

Moreover, having spaced, crowded or misaligned teeth can affect a person's smile and overall appearance.


Treatment for Bad Bites

To treat misaligned or crooked teeth, dentists recommend wearing braces. Traditional braces are made out of thin metal wires and brackets that exert a continuous pressure on the teeth bones and over a period of a few months or years, force them to align properly, in an arch-shape, on the upper and lower jawbones.

But for patients who have mildly crooked teeth, dentists prefer to place clear aligners on their teeth. Like braces, clear aligners are orthodontic devices or mouthpieces that restore the alignment of teeth. But unlike traditional braces, clear aligners are changed every few weeks.


Here are some of the benefits of clear aligners
More Effective than Traditional Braces

Traditional braces can take up to 2 years to completely correct the misalignment of teeth. But because clear aligners are worn for mild crookedness, they take half the time and you can see improved results within less than 6 months.


Cannot Be Seen

Unlike traditional braces, clear aligners are made from transparent plastic or acrylic material which makes them completely invisible from a distance of 2 feet. You can confidently wear clear aligners to formal events and gatherings as it will not affect your appearance.


Removable and Hygienic

Traditional braces are fixed on the teeth with the help of metallic brackets. They can only be removed by a dentist. But clear aligners are an easy-on and easy-off solution for straightening crooked teeth. While eating, brushing, flossing or sleeping, you can remove the clear aligners and place them in their case.

Also, clear aligners are more hygienic for your oral health and care as compared to traditional braces. The clear aligners are replaced every 2 to 3 weeks. Whereas, in the case of traditional braces, you will be required to wear the same metal wire and brackets for the next 2 years.


Clear Aligner Care

To take proper care of your clear aligners you will have to do the following:

| | |
| --- | --- |
| • | Remove them while eating, brushing or sleeping. |
| • | Rinse them thoroughly with tap water when you are not wearing them or before placing them in your mouth |
| • | Always put them back inside the case when you are not wearing them |
| • | Do not brush over the clear aligners |
| • | Avoid drinking tea and coffee while wearing the clear aligners |
| • | Avoid consuming colored drinks and food |
| • | Every night soak your clear aligners in clean, lukewarm water |

Learn more about why clear aligners are a great alternative!


If you want to correct your minor bad bite and wear a clear aligner, visit us at Myers Park Dental Partners. Our experienced staff of orthodontics includes Dr. Allen and Dr. Crystal. They will make customized clear aligners to align your crooked teeth. So, call us today at (704) 332-2532 to book your appointment.