Benefits of Dental Implants

Charlotte, NC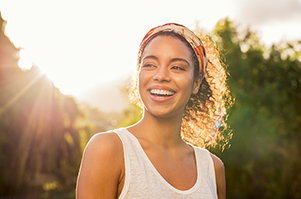 By the time Americans reach the age of 50, they have usually lost 12 teeth. Around 10 percent of Americans between the ages of 50 to 64 have no teeth. Approximately 178 million Americans are missing at least one tooth. Periodontal disease is the most common cause of tooth loss among adult Americans.

Missing teeth can make things hard for you – eating and talking becomes difficult, you lose your confidence, and you might also experience some degree of facial sagging. There are quite a few permanent and temporary tooth replacement options that can give you your smile back.

One of the most common and durable tooth replacement options is dental implants.


What Are Dental Implants?

Dental implants were invented in 1952 by a Swedish orthopedic surgeon, Per-Ingvar Branemark. Today, they are considered the standard tooth replacement option that have restored many smiles. Roughly 3 million Americans have dental implants, and around 500,000 are placed every year.

Dental implants are official tooth roots, typically metal posts or frames, placed into the jaw bone. There are two types of dental implants – endosteal and subperiosteal. Endosteal implants are the most commonly used dental implants that are placed using a two-stage procedure.

There are also various implant materials that you can choose from. However, the most commonly used implant material is titanium.


Who Is a Candidate for Implants?

Wondering if you are a good candidate for implants? You can get implants, if:

| | |
| --- | --- |
| • | You have missing teeth |
| • | Your gums and teeth are in good health |
| • | You have adequate bone in your jaw |
| • | You don't drink or smoke |
| • | You are an adult. People in their early twenties are good candidates for the procedure. |
Benefits of Dental Implants

Unlike bridges and dentures, implants are a permanent tooth replacement option. Here are the benefits of this innovative tooth replacement option:

| | |
| --- | --- |
| • | Dental implants are most people's number one choice because of how implants prevent bone loss. You lose the mass in your jaw after losing a tooth. As soon as you lose a tooth, your body reabsorbs the bone where the root tooth once was, which can cause your mouth and cheeks to shrink. A dental implant is the only tooth replacement option that replaces your jaw bone stimulation and reserves some bone loss. |
| • | You might have to get the crown replaced every 15-20 years because of general wear and tear. But an implant can last for a lifetime. |
| • | It allows you to bite with more or less the same force as your natural teeth. Unlike dentures, implants don't fall out, which saves you the embarrassment and lets you enjoy your favorite foods. |
| • | Mumbling and slurring are not uncommon among people with missing teeth. Dental implants improve your speech, allowing you to feel like yourself again. |
| • | Implants look and feel like your natural teeth. |
| • | Dental implants bring your smile back along with the lost confidence. |
Get Your Implants, Today!

Studies show that the first thing people tend to notice about other people are their teeth and smile. Getting implants can permanently replace your missing teeth. The procedure is highly effective and durable.

Schedule an appointment with us at Myers Park Dental Partners or by calling us at (704) 332-2532 to get a permanent and healthy set of teeth.