Dental Bridge with Implants

Charlotte, NC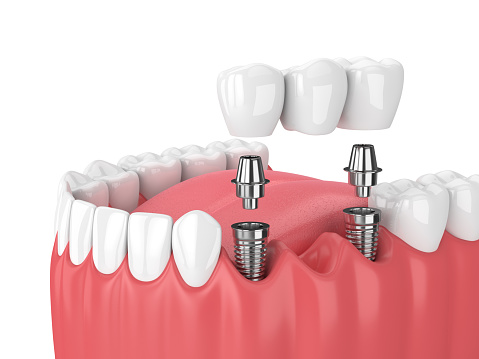 A dental bridge is prosthodontic that we use to replace missing teeth. It can be a wonderful tool in restoring and rebuilding the tissues in your mouth. Having a full set of teeth is better for your oral health and your overall health. A dental bridge does require a way to anchor it in place. This can be done with already existing natural teeth, or it can now be done with a surgically implanted anchor known as a dental implant. Our team at Myers Park Dental Partners can review the status of your missing teeth and make recommendations, which may include a dental bridge held in place with one or more dental implants.


Why Should I Replace Missing Teeth?

A common question from our patients is around the necessity of restoring missing teeth. Many people, especially as they age, end up with a missing tooth or two. It is a common frustration, and therefore something that many patients may wonder why they should even bother? What they may not realize is the cascade of problems that occur when a tooth is lost, some more immediate and some with time.

Some immediate problems following the loss of a tooth are changes to your diet. You will find some foods more difficult to chew, and then either chew predominately on the other side of your mouth causing uneven wear, or eliminate that food from your diet altogether. Both of these solutions will cause changes to your health.

Long term problems following tooth loss include atrophy to the bone and changes to your bite as neighboring teeth shift out of alignment to fill the space. This can cause some severe issues that can be both painful and expensive. Restoring missing teeth is best.


Traditional Dental Bridge

The traditional bridge prosthetic includes a dental crown on each end designed to fit over anchor teeth with replacement teeth between. This can be a good solution if you have healthy natural teeth available to serve as anchors.


Implant Retained Dental Bridge

An implant retained dental bridge utilizes titanium or ceramic implanted posts to serve as anchors. This is a great option when one or both sides of the bridge need a source for stabilization due to lack of healthy teeth. With today's advancements, we are able to use any combination of natural teeth or implants to anchor the device. A dental implant is a post that we surgically embed into your jawbone to be a firm support in your mouth.


Implant Retained Full Arch Bridge

An implant retained full arch bridge allows us to replace a full arch of missing teeth with a combination of dental implants and a denture device. This means a firmly stabilized denture that stays permanently in your mouth. It won't wiggle, come loose, or need to be removed at night, it stays right where it's intended. A full arch dental bridge is a wonderful restoration that will provide you with a firm set of teeth that function, feel, and look natural.

We invite you to learn more about a dental bridge and retaining it in place with dental implants. For more information, contact our Charlotte office at (704) 332-2532.