Dental Implant Care

Charlotte, NC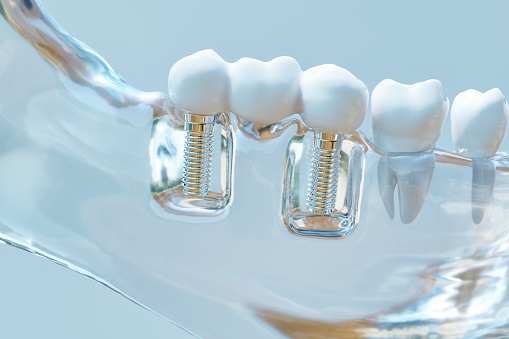 Getting your dental implants after losing teeth is always a wonderful occasion. You can finally smile with confidence again without worry. However, implants are not a license for neglecting proper oral healthcare.

We at Myers Park Dental Partners have ample experience in dental implant care. Our dentists can advise you on the best practices to maximize the lifespan of your dental implants.


What are Dental Implants?

In a nutshell, dental implants are replacement teeth that have to be drilled into your jawbone. Following six months of recovery, the post or screw inserted into your jawbone will receive the new tooth. The tooth will be attached, and you will have a perfect smile once again.

There are many benefits to getting dental implants. For instance, dental implants will last you practically for a whole lifetime if you take proper care of them. They can handle chewing nuts and apples like before. Chewing gum and other sticky foods also do not dislodge them as long as you eat them after the recovery period.

Being a permanent solution to tooth loss, you do not have to remove them for cleaning or use special products. There is almost no chance of losing them like dentures as they are affixed to your jawbone. Since your bone accepts implant posts, it will take a lot of force to dislodge them.


Caring for Your Dental Implants

Regular brushing with fluoride toothpaste is good for eliminating the bacteria hiding in the crevices of your teeth and implants. Brushing at least twice a day will let your implants last a long time. If you do not brush enough, bacteria can harm your gums and even jawbone, increasing your risk of complications.

There are specialized toothbrushes that keep your implants free of damage. They are often soft and will not harm your teeth. Combine these with non-abrasive toothpaste for the best results.

Flossing frequently is also essential to proper implant care. You can take some dental floss with you when you go out or watch TV at home. Getting into the habit of flossing can protect your implants.

Smoking and drinking can damage your implants. This is especially the case during the first six months after your first procedure. Alcohol can slow down the recovery process, and you will have to wait for a longer time before you receive the dental crowns.

The first six months after the procedure are also a period of abstaining from some foods. There are two main categories - hard foods and sticky foods. You should also avoid eating crunchy foods.

Hard foods include apples, hard cookies, hard candy, and nuts. They may dislodge the implant post, and you will have to go and see our dentist again to evaluate it. This will also cost extra.

Chewing gum, chocolate, and sticky candy can also influence the implant post's direction. Avoiding them will allow the jawbone to integrate the post successfully.

Schedule regular dental checkups, particularly to receive professional cleanings. Cleanings are highly effective at removing stubborn bacteria. Our dentists can also detect other problems should there be symptoms.


Consult Us Today

Our professional dentists at Myers Park Dental Partners can help you with dental implants and their care. We will only provide our best services. Please call our number at (704) 332-2532 to schedule an appointment.