Dentures vs. Dental Implants

Charlotte, NC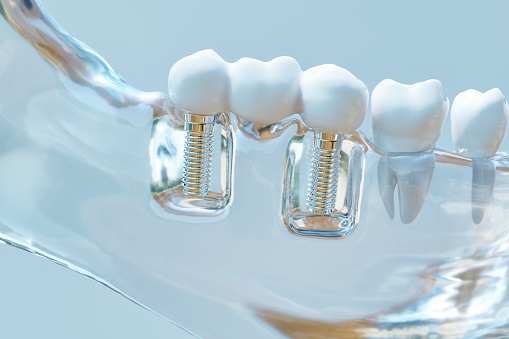 Both dentures and dental implants are popular solutions when patients lose teeth. By wearing or receiving them, you can proudly smile again with much confidence. Even so, do you know the differences between these treatments?

At Myers Park Dental Partners, we can instruct you how they differ in great detail. We have much experience in prescribing both dentures and dental implants.


What are Dentures?

Removable and affordable, dentures are an excellent solution, especially if you have lost many teeth. Dentures come in partial or complete forms. While inexpensive, some patients do not enjoy cleaning dentures as it takes up a lot of time.

Denture plates are either made of plastic or metals, some a combination of both. They have artificial teeth attached to them to help give off the appearance of perfect teeth. Both the plate and teeth are colored to resemble the gums and natural teeth, respectively.

An advantage to wearing dentures is that bone density is not an issue. This is because they are attached to the teeth and gums using clamps. Even weaker jawbones are unaffected when the patient wears dentures.

Every day, the dentures must be removed for cleaning. Our dentists recommend using soft toothbrushes and special cleaning products that do not damage them. After this, you may be instructed to soak them in a solution.

The soaking usually does not last for an entire night. However, this depends on our dentist's instruction and the make of the dentures.

We will first obtain an impression of your mouth before sending it to the lab to make your dentures. The process is painless, and you will usually only experience some very mild discomfort during this step.


What are Dental Implants?

If dentures are less permanent, dental implants are a concrete example of permanent solutions for tooth loss. There are many benefits of implants, ranging from convenience to restored oral function. They are often more expensive, but they can last for a long time.

To get dental implants, our dentists will drill a hole into your jawbone and insert a post. After six months of stringent maintenance, you will receive the dental crown and have a beautiful smile once again. During this time, you must avoid hard and sticky foods to prevent misalignment.

This entails that patients must have enough bone matter in their jawbone. If not, dentures are the better treatment.

After receiving your dental crowns, you can chew and speak as before. Dental implants are very tough and can withstand a lot of punishment. Maintenance only consists of regular brushing and flossing as well as visiting with our dentists for cleanings.

You might ask who is a candidate for implants, and the answer is anyone without significant bone loss in the jawbone. As long as a patient has missing teeth and a sufficiently strong jawbone, they can receive dental implants.


Which One is For Me?

It depends on the patient, and it is up to our dentists to prescribe the treatments. Not everyone is compatible with all treatments. For example, those with low jawbone matter should not be given dental implants.

Our dentists at Myers Park Dental Partners can help you pick the best course of action. Please call us at (704) 332-2532 to learn more or schedule an appointment with us.