Digital X-Rays

Charlotte, NC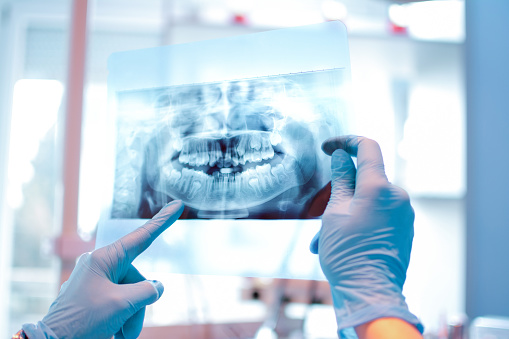 In case you are not already familiar with digital radiography, this is a new technique that will make your life a lot easier the next time you pay us a visit. If you need a detailed inspection of your tooth, come visit us at Myers Park Dental Partners and experience how digital radiography can enhance your overall experience and make your dental visits with us shorter, quicker and more accurate.


Quicker And Easier

One of the main advantages of digital radiography is that we get it done at our clinic itself while you are seated in the dentist's chair. A small chip is placed inside your mouth and within seconds the image of your jaw and your teeth appear on the screen. This eliminates the wait time and anxiety that was earlier associated with the traditional x-ray.

Digital radiology helps us identify the problem and begin working on a solution as soon as possible. It benefits patients who are in intense pain because we are able to figure out what is causing the pain and get rid of it fast.


Detailed Image

Digital radiography manages to deliver clear, detailed, and precise images, unlike an x-ray which doesn't explain much to the untrained eye. The images obtained from digital radiography are easier to understand. Not only does this help us figure out the problem easily, but patients also get an assurance of what is causing the pain. The computer screen shows a clear blown-up image of the scan and this allows us to communicate more clearly with the patient and explain what's happening and what the next steps are.


Better Patient Experience

Unlike traditional x-rays, digital radiography is safer and more comfortable. This makes patients feel at ease. This method of scanning is also considered safe for pregnant women and it enables them to get their teeth checked without any delay. It is also easier for us to maintain transparency with patients and explain to them what's going on with the help of the images.

Since patients don't need to travel or go anywhere else to get their x-ray's done, this makes it easier for people who are busy and still looking to maintain proper dental hygiene. It's even better for people who are suffering from toothache or gum problems and have no time to go back and forth and wait for a traditional x-ray to come through.


Seamless Patient Record

One of the best things about digital radiography is that it helps us maintain the patient's history and new scans can be saved automatically to that patient's folder. This allows us to show patients the visual improvement through their scans and they can even see the improving health of their teeth and gums. This is a great way for us to communicate with our patients and explain to them how our procedures are working and benefitting them, especially when it comes to procedures with multiple sittings such as root canals, dental implants, or gum infections.

Good dental health is necessary for a healthy life so don't waste any time. Give us a call right away at (704) 332-2532. If you are not comfortable talking on the phone, you can always walk in to see us here at Myers Park Dental Partners anytime.