Fluoride Treatment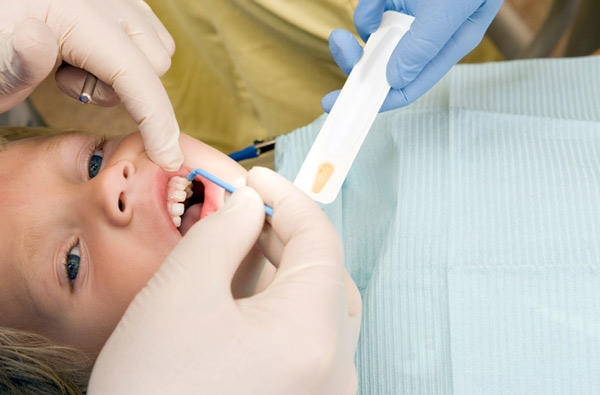 At Myers Park Dental Partners, we apply fluoride to your teeth following a dental cleaning when we feel that it would be beneficial to the strengthening of your enamel. Fluoride has proven benefits to the remineralization of teeth when applied appropriately. It is just one of the preventive steps that we offer to help you have ongoing oral health.

Dental education has made large steps forward over the past century. One of these steps is in learning more about preventive care. There are things we can do to protect teeth from decay, disease, and damage before they occur. One of these important preventive steps came from learning the important role that fluoride can play in the health of our enamel.

In the early 20th century, it was observed that towns with fluoride present in their water had overall healthier teeth. It was discovered that fluoride helps strengthen teeth in the natural remineralization process, and in the building or growing of teeth in children. The enamel on our teeth is strong, in fact it is stronger than bone making it the strongest material in our body. As strong as it is, it is still lost through the daily chewing and breaking down of food. Though our teeth appear and feel flat and solid, if viewed under a microscope you would see that they are composed of mineral shards mashed tightly together. As we use them, our teeth lose small amounts of these shards, which is called demineralization. Our body is able to rebuild these lost shards, known as remineralization, through the vitamins and minerals we gain in eating healthy foods. One of these minerals is fluoride. We can bump up this advantage through the direct application of fluoride.

Fluoride can be found in multiple sources. Fluoride is found naturally in our water, and in foods or beverages such as spinach, potatoes, black teas, and grapes or raisins. Fluoride is also found as an additive in many city water supplies, or in store bought dental products such as toothpastes and rinses. We are just another source for fluoride. The fluoride treatments performed in our office are higher, prescription strength doses applied directly where we see it is needed the most.


Your Fluoride Treatment

Applying fluoride to your teeth is a painless, simple procedure. Depending on your age and amount needed, we may choose to apply the fluoride treatment in one of multiple applications. Fluoride can be applied through:

| | |
| --- | --- |
| • | Foam |
| • | Rinse |
| • | Gel |
| • | Sticky Gel |

Following your fluoride treatment, we will often ask that you do not eat or drink for a short period of time. This will allow the treatment time to remain coated to your teeth.


Is fluoride bad for you?

The question of whether fluoride is bad for you has multiple and opposing answers. No, it is not bad for you when applied in an appropriate way as directed. Yes, it can be bad for you if delivered in overabundance or if swallowed in large amounts. We recommend that you bring your concerns to our office. We are happy to answer your questions and have a more in depth conversation. Call Myers Park Dental Partners at (704) 332-2532 to learn more!