How Long Do Dental Implants Last?

Charlotte, NC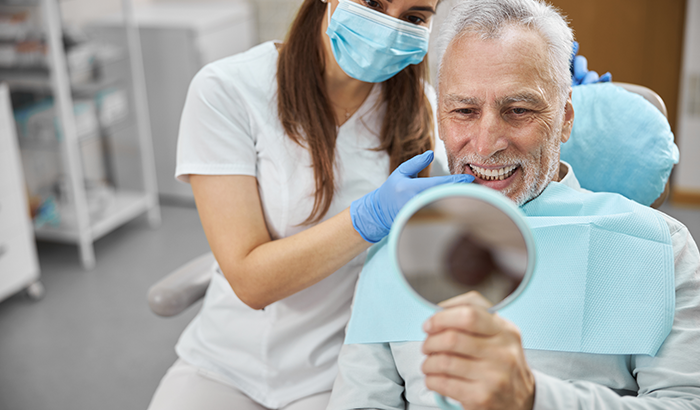 Dental implants are an effective tooth replacement treatment that provides the same function and looks as the natural teeth. Numerous factors impact the longevity of dental implants, including your overall health, placement of the implant, and oral hygiene.

Myers Park Dental Partners uses the highest quality materials for dental implants to ensure they improve your oral health and last longer. Dr. Allen and Dr. Crystal examine your mouth, take x-rays, and consider your preference and lifestyle to find the best dental implants for you. Understanding the need for dental implants and taking good care of them can extend their lifespan.


Multiple reasons, including tooth decay, medical conditions, or accidents, can cause tooth loss. If left untreated, tooth loss can result in periodontal disease and increases the risk of other medical conditions that impact general health. It can also cause gum disease and bone loss.


Dental implants are an effective treatment for tooth loss and work as artificial roots, playing a major role in bone loss. Tooth loss can weaken the jaw, damage the bone, and impact your facial appearance. The implant is planted surgically in the jawbone and that helps in everyday teeth functions once healed. This also helps in avoiding the deterioration of the bones by strengthening them.


How Long Will the Dental Implant Last?

Titanium screws are used to fuse the implants in the jawbone, which are the materials made to last. Dental implants can survive for decades with proper care and maintenance. However, the crown requires replacement after seven to 10 years since it is the visible part of the implant. The longevity of the implants also depends on several other factors, making it difficult to make a specific estimate of the lifespan of the implants. The dentist can provide a more realistic answer about the lifespan of your implants.


While dental implants are more expensive compared to dentures, they last longer. This ultimately saves you time and money. You also don't have to worry about the implants falling out while talking or eating, which is sometimes the case with dentures. Moreover, implants create a more natural feel and look than dentures.


Dental Implant Aftercare Tips

Good oral hygiene is not only good for your natural gums and teeth but also the implants. Even though dental implants are created to last for years, you can further extend their lifespan with proper aftercare tips.

It is integral to follow the instructions the dentist gives you regarding the care and maintenance of dental implants. You will be given specific instructions before and after implant surgery to ensure proper healing. This will allow your mouth to completely and efficiently heal and eliminate the risk of problems in the future.

After the treatment and the mouth has healed, you will need to maintain good oral hygiene and go to regular dental checkups. This will ensure your dental health is maintained and any potential problem is detected early and resolved.