Mini Dental Implants

Charlotte, NC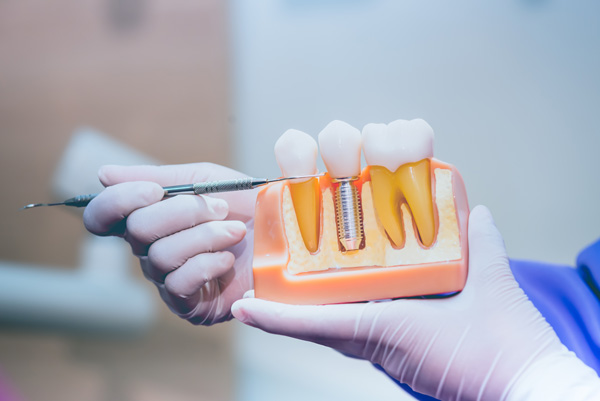 Missing tooth replacement procedures keep getting better and better. With the advent of mini dental implants, you can get a procedure to replace missing teeth that is much less invasive than traditional dental replacement procedures. You get to enjoy the benefits of dental implants but in a procedure more suitable for your needs.

Dr. Allen and Dr. Crystal at Myers Park Dental Partners are experts who can help you better understand what mini dental implants are and whether they are the right tooth replacement option for you.


What Are Mini Dental Implants?

Dental implants are essentially prosthetics made of titanium that are fixed into your jaw, acting as a replacement for the roots of missing teeth. Mini dental implants are a special kind of tooth replacement tool that offers a permanent structure to replace missing teeth. However, as their name suggests, mini dental implants are smaller.

These types of dental implants resemble standard dental implants, but they are much smaller. They are typically made of two components: a titanium post with a ball on one end and an o-ring socket on the other that effectively attaches the replacement tooth to the titanium post. The actual implant is tiny and screws directly into your jawbone.

Of course, getting mini dental implants or sticking to the more traditional dental bridge with implants depends on various factors. This evaluation is best done by dental experts like Dr. Allen and Dr. Crystal, who will first examine the condition of your teeth to identify the best solution for you.


Why Mini Dental Implants Could be Necessary

Mini dental implants might provide an ideal solution for people who want to replace missing teeth but do not want, or cannot use, conventional restorative methods.

| | |
| --- | --- |
| • | You might lack the bone mass necessary to support traditional restorative dental implants |
| • | You might have a high susceptibility to pain, making it crucial to use a less invasive and painful procedure to restore your full smile |
| • | You don't want to spend several months on your teeth restoration |
| • | Traditional restorative procedures might not fall within your budget |

Most dental surgeons tend to recommend choosing mini dental implants for patients with smaller mouths or teeth, to replace premolars, or if you need a replacement for teeth located in a narrow space in your jaw. Dr. Allen and Dr. Crystal at Myers Park Dental Partners are here to ensure that you get the best dental care. They will first examine your oral health thoroughly to determine what procedures might be the most suitable to help you restore your smile. After the examination, Dr. Allen and Dr. Crystal will discuss your options with you to help you make a better-informed decision regarding your restorative needs.


Contact Us for a Consultation Today

If you need a restorative procedure to bring back that confident smile, you can rely on Dr. Allen and Dr. Crystal at Myers Park Dental Partners to recommend a procedure that works best for you. They can examine your oral health, identify the best possible solutions for your concerns, and implement the right procedure to ease your worries and restore your smile. Contact us today!