Periodontal Care

Charlotte, NC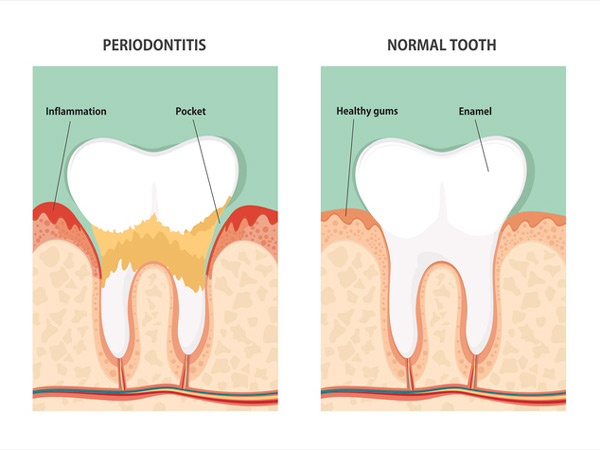 Gum diseases or periodontal diseases are caused when severe infection is spread in the mouth. It is not easy to treat such infections because by the time they start showing symptoms, it would have already spread far and wide. One of the best ways to ensure you avoid getting periodontal diseases is to visit us on a regular basis. If it's been a while since you have visited us, drop in at Myers Park Dental Partners so we can assess your oral health and rule out the possibilities of periodontal diseases.


Regular Dental Checkups

Regular dental exams help us assess the health of your teeth and gums and also identify early signs of gum problems. Periodontal diseases are caused due to plaque and bacteria buildup which affects the gums and creates an infection that starts spreading all over the mouth. This does not happen overnight. What begins with simple plaque buildup eventually becomes a serious gum disease. However, visiting us regularly will ensure that plaque buildup does not occur and our professionals will also clean your mouth properly. This reduces the risk of infection and bacteria spreading and it also reduces the risk of periodontal disease spreading which is painful, difficult to get rid of and requires periodontal maintenance.

Periodontal disease can also impact the integrity of your tooth structure and this means you will have to go through multiple sessions with us until you have healthy teeth and gums again. Instead of having to go through all this, just make sure that you keep up your regular visits with us.


Keep An Eye Out For Symptoms

Although periodontal diseases only start to show symptoms once they have spread far and wide, sometimes you will notice early signs such as bleeding of your gums, bad breath and inflammation. These are symptoms that you shouldn't ignore and if you are suffering from any of them, come visit our professionals at the earliest so we can help treat it.

Another symptom that you should look out for is plaque or tartar buildup. This eventually results in periodontal diseases so make sure you get it removed by us.


Proper Dental Hygiene

Following good dental hygiene can greatly reduce the chances of contracting periodontal diseases. There are three basic things that you need to follow - brush twice daily, floss after every meal and keep up with your dental appointments and cleanings with us. Doing this can greatly reduce your chances of contracting gum diseases.


Choosing The Right Toothbrush

Sometimes the wrong toothbrush can also result in causing injuries to the gums, which may turn into periodontal infections. One of the best ways to figure out which toothbrush is ideal for you is to ask our professionals. Although some people believe that a hard toothbrush is the best way to get rid of dirt and plaque buildup, others have sensitive gums and may need to use a soft toothbrush. You may not be able to understand the need of your gums and your teeth, but our professionals are well trained, and they will be able to suggest the right toothbrush for you. A good toothbrush will help to considerably decrease dental problems and help reduce the risk of periodontal diseases.

Don't ignore the health of your gums. They are the backbone for your teeth. Give us a call today at (704) 332-2532 and book an appointment with our periodontal disease specialist. You can also walk in and see us here at Myers Park Dental Partners and see what our dental professionals have to say about your dental health.