Single Tooth Implant

Dentist Charlotte, NC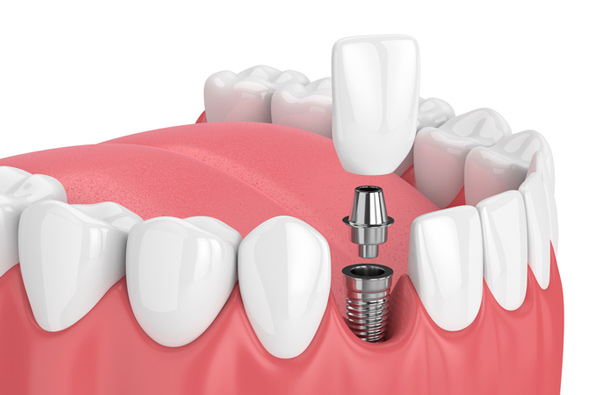 Losing a tooth is a common occurrence that can affect both adults and children. The struggle that comes with a missing tooth is real as it can lower your confidence in public situations, change the way you eat, and even induce gum disease as you age. Missing teeth can also change the appearance of your face and can cause bone loss if ignored for long periods of time. Myers Park Dental Partners can help you fix this problem with single tooth implants, if you have several missing teeth then you can get multiple implants too.


What Are The Benefits of a Tooth Implant?

Getting tooth implants will bring back your normal way of eating and boost your morale when facing other people in social situations. It can help prevent you from getting future dental problems such as bone loss and gum diseases. It can also restrain signs of premature aging, skin sagging, and contour changes in your face that can arise due to missing teeth. Implants can help bring back your natural charm and manner of your speech. Although artificial teeth still require cleaning, they are not susceptible to cavities like natural teeth as the material they are made from does not decay.


How Long Does a Tooth Implant Last?

A tooth implant can last a whole lifetime if given proper care. You can take care of them the same way you would with your natural teeth. Unlike dentures that require more work in cleaning, brushing your teeth two to three times a day is enough for dental implants and are much easier to care for than dentures. An implant is made to look and function the same way as your natural teeth. Implants are a permanent solution for missing teeth as they do not require to be repaired or replaced periodically.


Difference Between Implants and Dentures

While dentures can last up to 10 years, dental implants can last a lifetime. Dentures are temporary replacements and can be removed while implants are permanent, meaning you do not have to remove them for cleaning. Dentures are ideal for someone with a weak or unhealthy jaw line. It is however important to note that they need to be kept in place with dental adhesive. Over the last few years implants have become a popular and more efficient alternative to dentures.


Should I Get a Tooth Implant?

If you are missing one or more teeth, you can definitely get an implant to restore the healthy function of your teeth and gum line. People who have damaged or decaying teeth are also good candidates for implants. If you currently have issues such as: having a hard time smiling, bone loss, difficulty eating, or shifting of adjacent teeth because of a missing tooth, implants can help you deal with them.

Problems that are caused by missing teeth can easily be fixed by modern dental technology. If you have one missing tooth then a single tooth implant can help, if you have more than one missing tooth, you can get multiple implants. If you are interested in finding out more about dental implants, visit us at Myers Park Dental Partners or give us a call at (704) 332-2532 today.