What Is a Dental Implant

Charlotte, NC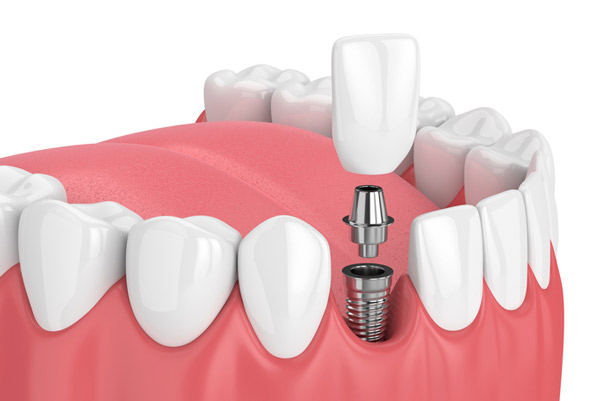 One or more missing teeth, mainly if located in an inconspicuous part of the mouth, can significantly impact one's oral health, although this may not be the first thing one thinks of. The effects of tooth loss are not often immediately apparent, and the harm done may not show any symptoms until much later. That is why it is so important to replace a missing tooth or teeth without delay with our expert dentist at . A dental implant is a small titanium alloy screw used to replace a missing or severely damaged tooth surgically. The jawbone is drilled so that a screw can securely anchor the dental prosthesis, such as replacement teeth.

Dentures are removable dental prostheses that mimic natural teeth and gums. However, not all dentures may be removed and reinserted; some types of attachments make them impossible to extract. Dentures, in general, rely on the soft and firm tissues of the mouth for support because they do not have to be surgically implanted into the jawbone.


Dental Dentures vs Dental Implants

Dental implants and dentures are two typical methods used to restore missing teeth. Your dentist will examine your mouth and discuss your treatment options during a clinical examination, which must occur before they perform any procedures.


Treatment Method

One component of dental implants is a titanium screw that is surgically implanted into the patient's jaw. When this is done, a crown, commonly known as a pontic tooth, is cemented over the top. Dentures are replacements for missing teeth made of plastic or metal and are removable. The choice between full and partial dentures depends on the severity of tooth loss. Dentures that clip on to dental implants are another option for those with missing teeth. At the first appointment with the dentist, they will explain all of your alternatives.


Look, Feel and Performance

Dentures have a base or plate custom-made to fit over the patient's gums. The material might range from metal to the more common plastic. A set of realistic-looking artificial teeth is included with this. It may take some time for a person to adjust to wearing dentures. Once you acquire your dentures, you will need to practice chewing and speaking to get used to them.

Dental implants prevent bone loss, which can alter facial structure with time, hence remaining stable and robust over time. Since an implant is anchored into the jaw, it looks, feels, and functions like a natural tooth and will not change how you talk. After the implant heals, you can use it the same way you would your natural teeth.


Get a New Smile

can help replace teeth you may have lost. Discuss your concerns with us, and we will do our best to guide you toward the dental restoration that works best for you. Visit us at our location or call us at (704) 332-2532 to schedule an appointment.