Why Clear Aligners?

Charlotte, NC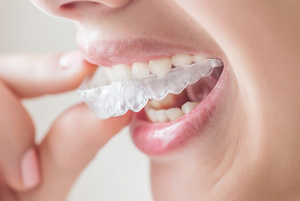 At Myers Park Dental Partners we want our patients fully informed on every type of braces available to them. You may prefer the tried and true traditional metal braces that your parents used. We also have self ligating braces with their reputation for fewer dental visits and gentler treatment. But fewer patients are aware of removable clear aligners and the flexible advantages they can offer.


What Are Clear Aligners?

While most types of braces involve instruments that sit on and within your teeth until the fitting procedure is complete, clear aligners can be taken out whenever you need to. After we have taken digital x-rays and made molds of your mouth, we fabricate a set of clear plastic forms that will help to straighten your teeth as time passes. You are given several months worth of new aligners that you replace at home, usually every two weeks. These aligner trays can be removed to brush and floss teeth in the way you are used to, offering a flexibility that most other types of braces cannot match.


Benefits of Clear Aligners

Along with the easy and convenient ability to remove your clear aligners at any time, this choice offers you many other benefits. Clear aligners do not affect the cheeks or teeth like traditional braces can. The use of clear aligners permit a more comfortable experience with no need to routinely tighten wires at our office. The materials used to create the clear aligners makes for a nearly transparent product, which can help our patients feel more confident that their smile remains unaffected.


Disadvantages of Clear Aligners

While clear aligners can offer you many advantages, there are some areas where one of the other choices can make for a superior option. If you suffer from severe overcrowding, traditional metal braces are much more effective at adjusting. Traditional braces can also be cheaper than clear aligners. While it is possible to lose or misplace your removable clear aligners, other types of braces are fastened to your teeth, making it impossible to lose that investment.


When Are Clear Aligners Best For Me?

There are a number of scenarios where we would recommend clear aligners to you. If you happen to suffer from crooked or protruding teeth, clear aligners can be an ideal solution. More serious underbite, overbite, or malocclusion are also problems that clear aligners have been designed to solve. Finally, if you have gaps between your teeth, you are a good candidate for clear aligners, as such gaps need less force for correction.


How You Will Use Your Clear Aligners

It helps to have some data behind how you can expect to use your clear aligners. You will likely use each set of clear aligners for one or two weeks. Each day, the goal is to wear the aligners for 22 hours. You should try to only take them out to brush, floss, and eat. Like with braces, you can expect to wear a retainer after the use of your clear aligners. Beyond these considerations, it is easy to maintain the lifestyle you had before the use of clear aligners and they should not prove difficult to use.

If you are interested and believe that clear aligners could be the right choice for you, call us today at (704) 332-2532.