Types of Dental Crowns

Charlotte, NC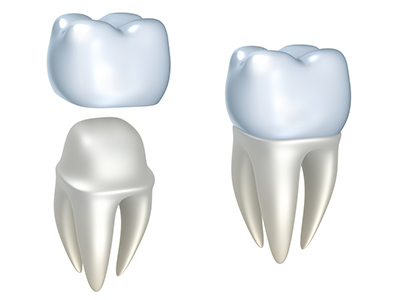 Dental crowns are an ideal solution to fix damaged teeth and restore their function and look without invasive dental replacement treatment. Dental crowns can also be used with dental implants to fill gaps between the missing teeth.

Placing dental crowns requires the right expertise and skills. Dr. Allen and Dr. Crystal at Myers Park Dental Partners ensure that accurate alteration is done to maintain the natural look and uniformity of your teeth. There is a range of dental crowns available, and the right ones are based on the preference and requirements of the patient.


All Ceramic Dental Crowns

Ceramic dental crowns, also called porcelain crowns, are the most common choice and are made with porcelain and ceramic. The best part about these dental crowns is their biocompatibility. They are free from any use of metals and ideal for those looking for allergy-free crowns. They also match the natural color of the teeth. However, they are not as strong as metal crowns.


All-Resin Crowns

All-resin dental crowns are the most feasible and affordable dental crowns. These are created from a composite resin and can easily blend with the surrounding teeth. These crowns don't require a lot of tooth preparation but are not an effective long-term dental solution. These are more prone to damage and are weaker than other dental crowns.


Porcelain Fused to Metal Crowns

These crowns have a porcelain fused top and a metal base. These dental crowns are ideal for fixing common dental issues that come with porcelain-only crowns and for those looking for strength over appearance.


Metal Crowns

These crowns are created with metal and give a metallic appearance. Metal crowns can be created with different types of metal, including copper, platinum, gold, and base metals, such as nickel-chromium and cobalt-chromium. In many cases, these crowns are created with a mixture of metals and a metal alloy base. These are a good option to restore molars since they are strong and don't wear out surrounding teeth.


Benefits of Ceramic Crowns

Ceramic crowns can offer numerous benefits for the patient when they are customized the right way. Dr. Allen and Dr. Crystal understand your requirements and create the right dental crown that fits your teeth perfectly.
Ceramic crowns can benefit you in multiple ways, including:

| | |
| --- | --- |
| • | Increased durability due to its unique stabilizing quality |
| • | Natural function and shape of the teeth |
| • | Higher protection and prevention from tooth decay |
| • | Crafted based on your teeth using a mold for best fit |
| • | Lack of metal elements reduces the chances of allergies |
Should I Get Same Day Crowns?

Fortunately, the advancement in technology and innovative dental procedures has allowed dentists to offer same-day crown treatment. This provides dental patients with the convenience and comfort of getting the issue fixed in a single dentist visit instead of waiting several weeks for their permanent crown. Myers Park Dental Partners provides you with a range of dental crown options based on your requirements, budget, and dental needs. We also offer same-day crown treatment for your ease. Give us a call to book your initial consultation at (704) 332-2532.